Links and Banners....

Copy one of the prepared links below or right click one of the banners and save it to your server with your own link script.

To exchange links with us you must post a reciprocal link first. Then go to the Add Links page to submit your link information.
---
#1. 468x60 LARGE BANNER




#2. 170x120 MEDIUM BANNER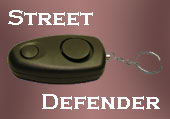 #3. 120x60 SMALL BANNER




#4. TEXT LINKS



Personal Alarms from Street Defender - Police Officers, Campus Security,
and Security Consultants recommend the use of personal alarms.
The attention drawing capability you need, when it matters most.





Personal Alarms Street Defender Personal Alarms
- legal to carry everywhere (even on airplanes) and so simple to use.