Personal Alarms
The fastest growing segment in the self defense industry today ...


Matchbook Alarms ---
Our Most Popular Personal Alarm

---

MC-223 Keychain Alarm
A very small 2.25 x 1.5 inches with our loudest 120 Decibel alarm! Multi-function personal alarm, can be used to protect people, places, and things. Available in SILVER, BLACK and CHESTNUT ROSE.

Includes Door & Window Alarm Cord
Best Value! . . . . . $9.99


---


What is a personal security alarm?

Personal protection alarms are convenient to carry, and extremely loud (usually 120 decibels or more), giving you the attention drawing capability you need, when it matters most.

Small enough to fit into the hands of women and children, yet the ear splitting high pitched sound a personal emergency alarm emits, is very uncomfortable to listen to for even a few seconds.

The safest and most effective method of self protection.

While other personal protection devices have helped some people, they can also be taken away and used against you.

Personal Defense Alarms CANNOT be used against you like offensive weapons, requires NO training or permits, and can be used by ANYONE regardless of physical condition or age.


Clip on Alarm with Flashing Light

---

MC-383 Personal Safety Alarm
Offers hands free availablity, great for school, the office or while doing outdoor activities. Bright LED light flashes when alarm is activated --- or use as a flashlight to locate keys in the dark.

Available in BLACK or SILVER


Approximate size: 3 x 1.75 inches . . . . . $8.99


---

Carry a personal defence alarm with you wherever you go.

Portable Safety Alarms are legal to carry everywhere (even on airplanes) and so simple to use. Protect yourself at school, in the workplace, and when travelling. Protect your loved ones including the very young, and the very old.

Personal alarms are the first line of defense for your safety and self protection. Personal Safety Devices should not escalate an already dangerous situation and not every situation requires lethal force.

Best protection for shift workers, in parking garages and underground parking structures.

Many people enjoy sports like hiking, running, or cycling, but these activities can leave you isolated and vulnerable. If you feel threatened or need emergency assistance, simply activate the alarm.

The piercing sound of personal security alarms can even be used to ward off vicious dogs or wild animals.


MC-231 Small Oval Safety Alarm


---

MC-231 Keychain Alarm with String Lanyard


A lightweight 120dB key chain alarm designed to get attention. Protect yourself and your belongings.

Great gifts for seniors, the physically challenged, and their caregivers.

Designed for enhanced personal safety at every age and ability.
More Colors - More Style:
BLACK, BLUE, or RED

Approximate size: 2½ x 1½ x ¾, Weight 1 ounce (30g) ........... $7.99


---

Endorsed by Police and Security organizations around the world.

Investigations have shown that victims are usually too traumatized to shout for help in unfamiliar and dangerous situations, increasing their vulnerability.

Police Officers, Campus Safety and Security Consultants recommend the use of personal safety alarms. The high pitch alarm could scare off an assailant by surprising them, and will attract the attention of others in the area.

Criminals do not like to draw attention, and will likely run off when they realize the alarm cannot be stopped.

While the chances of being attacked remains extremely unlikely there is no doubt that personal alarms have proven their worth when individuals have been accosted.


Going Green with Enviro Series

---

MC-28 Slim Keychain Alarm
Energy efficient design uses just two button cell batteries, without giving up alarm volume. Includes Mercury free, Cadmium free L1154H green cells to minimize the impact on the environment.

Available in BLACK EARTH, OCEAN BLUE


If you need further assistance, please use one of the following resources:
Shipped Same Day
Free Shipping

Online orders over $50.00
New Arrival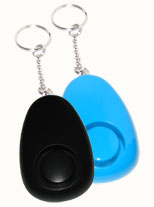 MC-28 Enviro Series
In 2011...
Between 2010 and 2011, the overall victimization rate for violent crime in the U.S. increased 17%.

A 22% increase in the number of assaults accounted for all of the increase in violent crime.

Bureau of Justice Statistics

For every 1,000 persons, there occurred:

&middot 1 rape or sexual assault
&middot 2 robberies.
&middot 19 assaults


Incident Reports
Do you have a story about your alarm?

Share your experience with us!

Alarm News Reports


Did You Know?
Several organizations and companies are putting discarded cell phones on the front line against violence.

Although not connected to an authorized carrier, the 911 feature can still send a signal to the local authorities in the event of an emergency.



Prices
All prices quoted on this site are US Dollars.

Flat rate shipping fee of $6.50 will be applied Per Order.
See Delivery Standards

Free Shipping on Retail Orders Over $50.00

See Wholesale & Discount Orders for quotes over 10 alarms.


Personal Breathalyzers